By Draftaholics
Modern Masters Draft at the Draftaholics HQ
With the release of Modern Masters 2017, we decided we'd check out the new draft format from the comfort of our Draftaholics Headquarters! Our guest in the hot seat this episode is GASmtg's SJB.
In addition to our hot seat's draft, we've also included the rest of the pod's decklists and we'll be giving you a rundown on each archetype present in our pod.
Jund (the Hot Seat)
Record : 1-2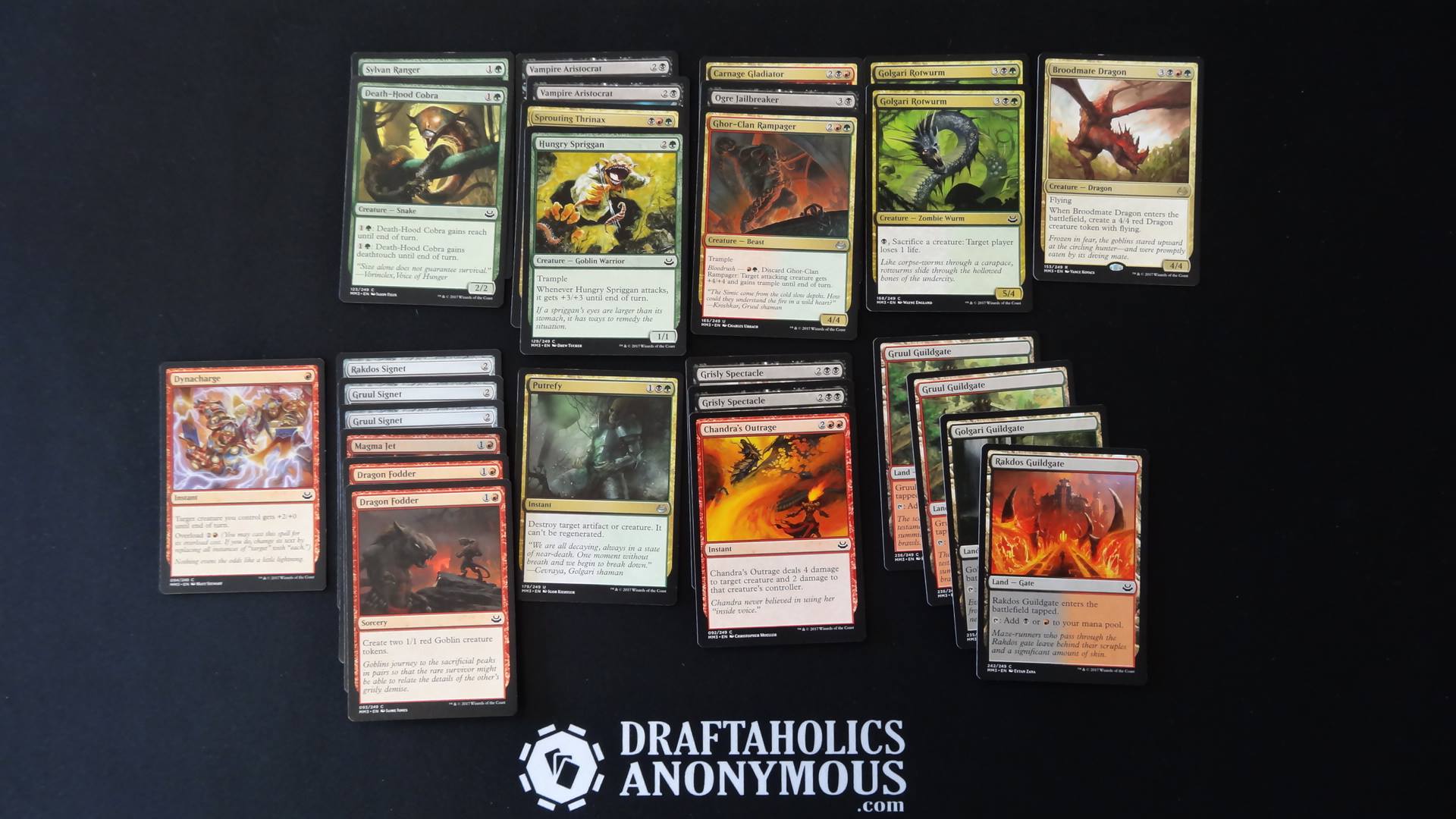 With great mana fixing and heavy hitting creatures, this deck aims to outclass the opponent with powerful creatures in a fast and reliable way.
The deck uses its signets to ramp out monsters like Golgari Rotwurms and the terrifying Dragon Broodmate while utilising its myriad removal spells to control the other side of the battlefield. This deck also takes advantage of the black and red sacrifice synergies with a moderate amount of token generation to feed the Vampire Aristocrats.
Premium removal spells such as Grisly Spectacle and Putrefy hopefully keep the way clear for your creatures and let them do what they do best – turn sideways!
Black Red Beatdown
Result : 1-2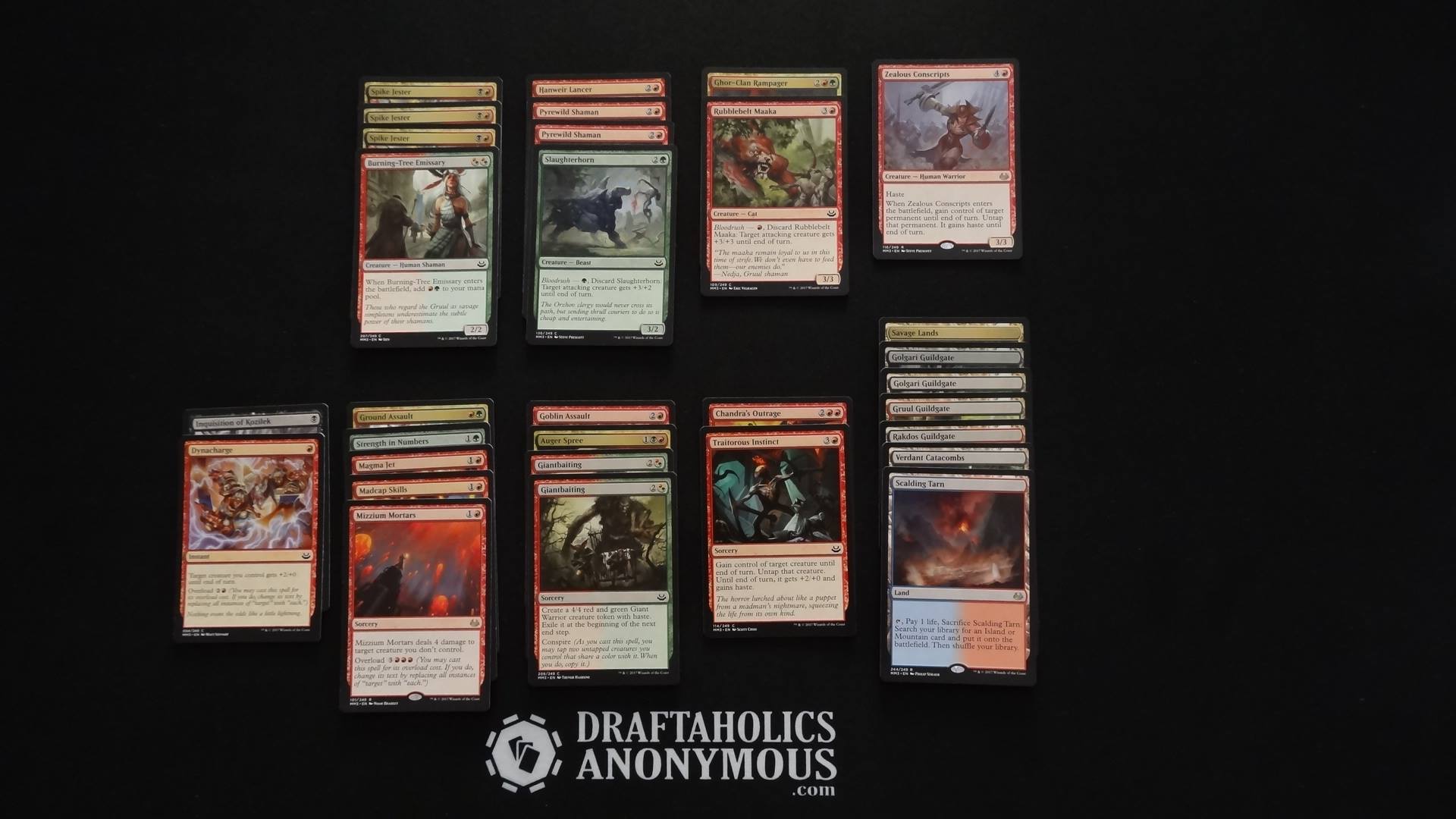 No draft format is complete without an aggressive beatdown strategy.
Black Red Beatdown uses cheap creatures with high power to end the game as quickly as possible. These creatures are supported by cheap removal spells to clear their path as well as pump spells to maximise their damage.
The lands in this draft deck also allow a reliable green splash to play some additional Bloodrush creatures that really help pack a punch.
Red White Aggro
Record : 2-1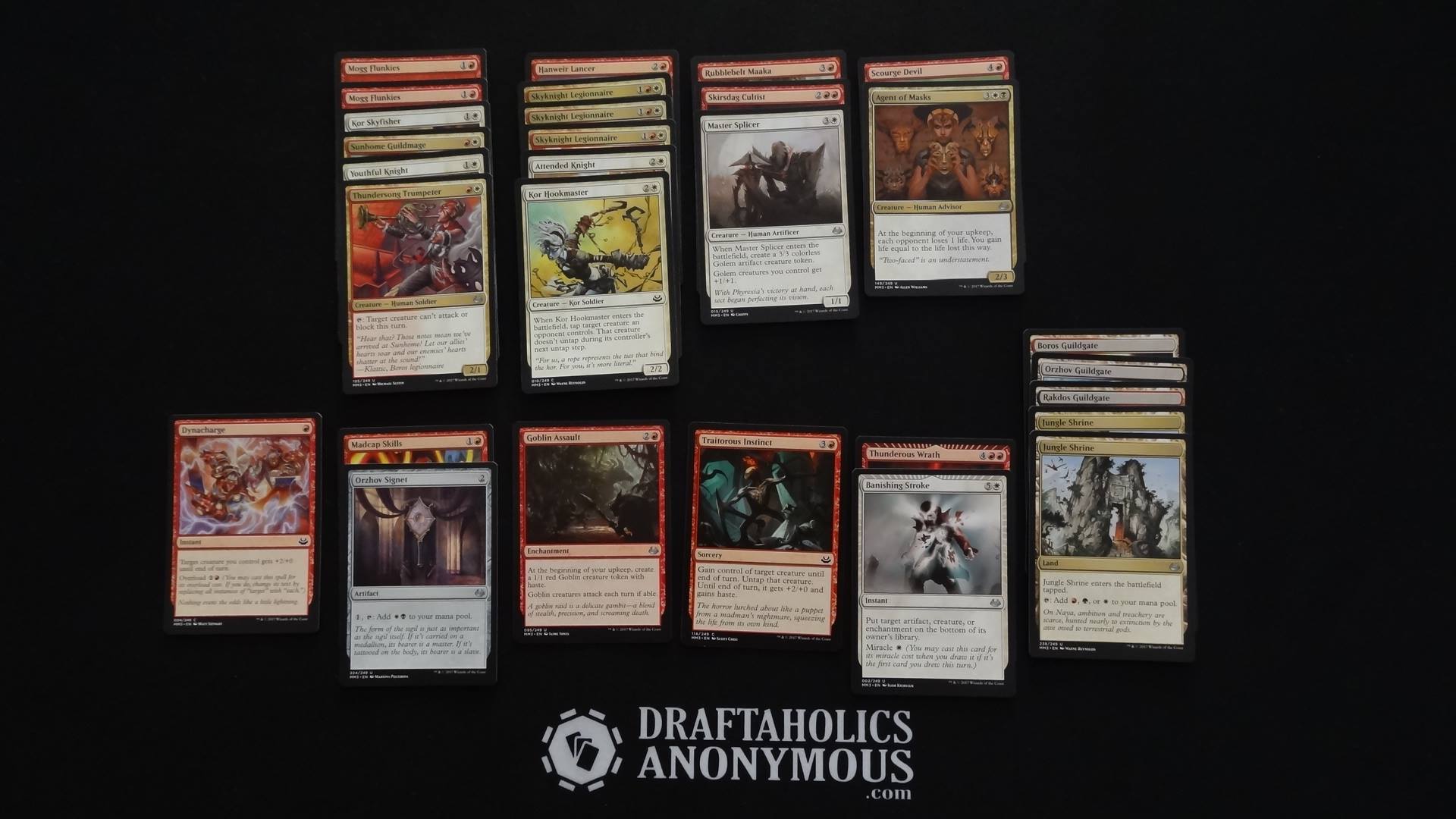 Here's another aggro strategy to keep the slower, more durdley decks on their toes. Taking full advantage of a low curve and evasive creatures, Red White Aggro puts lots of pressure on your opponent from the get-go.
Spells like Dynacharge, Madcap Skills and Traitorous Instincts all help to surprise the opponent with the added benefit of letting your two and three drops deal a little bit more damage when they begin to feel like they're getting outclassed.
Bant Flicker Tokens
Record : 2-1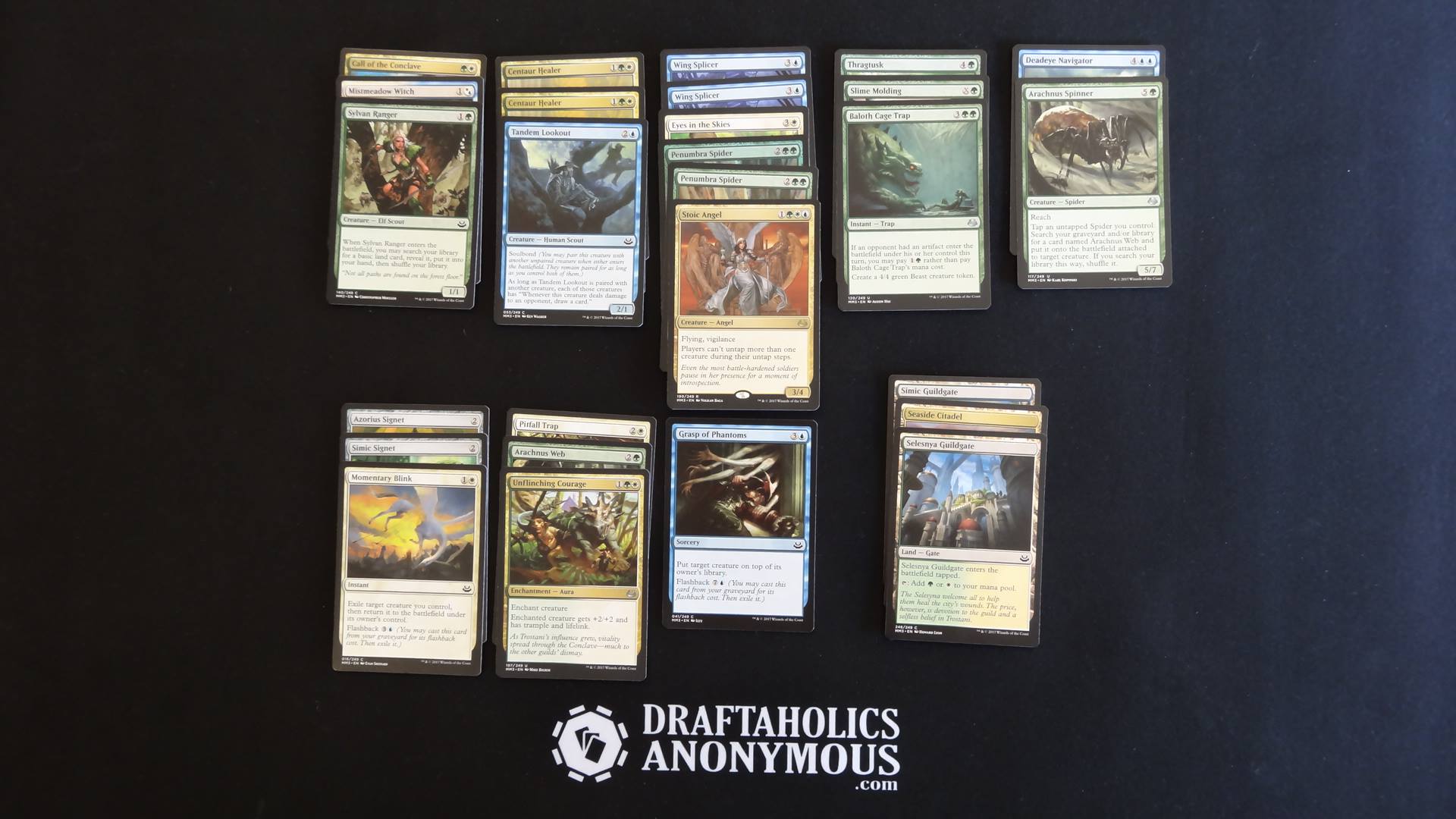 Combining the two strategies of blue/white flicker and green/white populate, this Bant deck makes use of both in an attempt to out-value the opponent. The deck plays efficient creatures that generate a heap of value, from the Splicers and Spiders to the all-star Thragtusk and the nigh-unbeatable Deadeye Navigator. With constant 2-for-1s, this midrange deck stalls the ground and finishes off the enemy by flying over, or simply being beefier.
Blue Black Control
Record : 3-0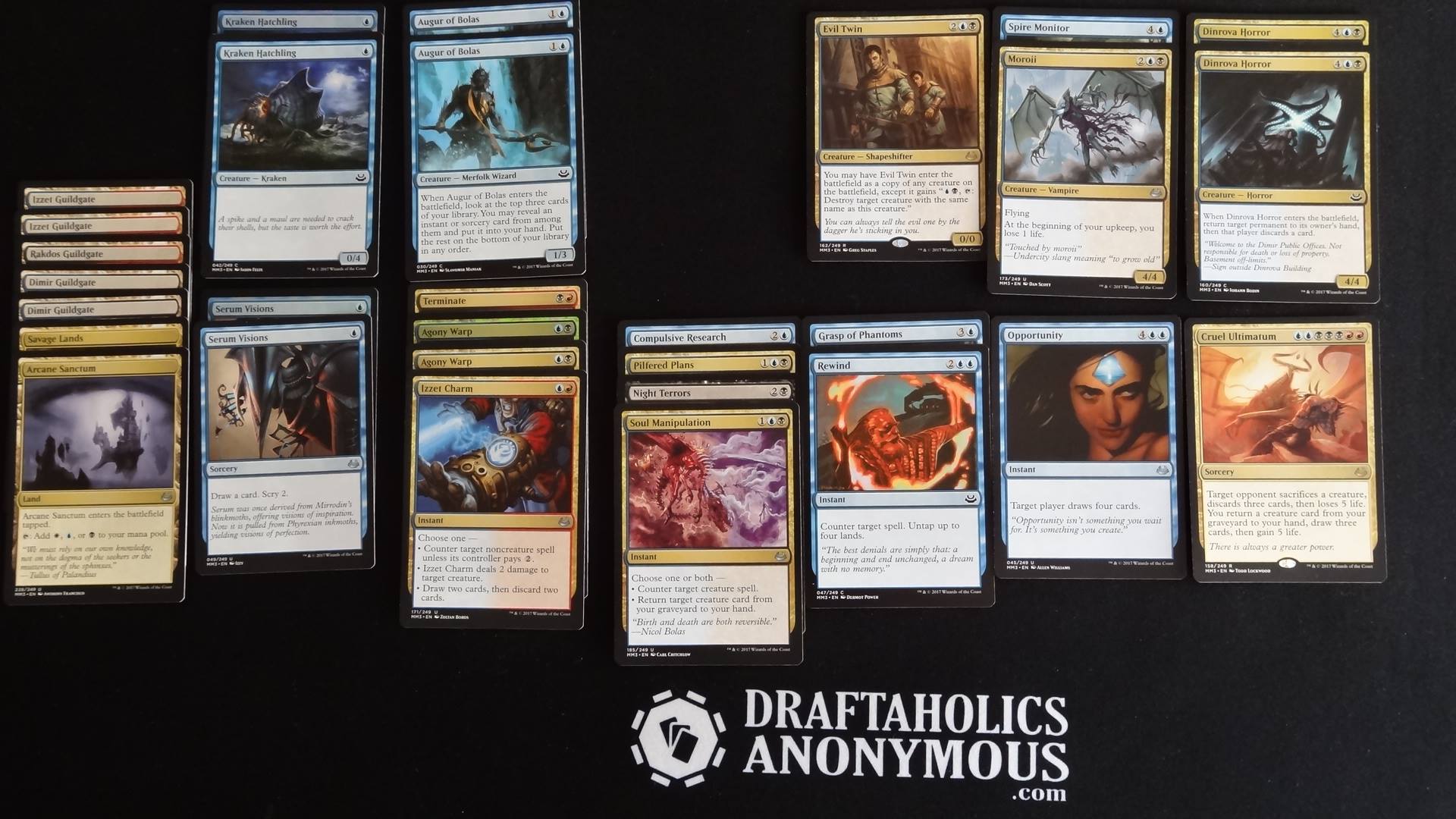 Following the tried-and-true formula of Blue Black Control, this deck was piloted to a 3-0 victory! With a reliable removal suite with cards like Agony Warp and Terminate, as well as efficient card advantage spells and creatures, Blue Black Control manages the board state until a high-powered threat can help close out the game. This deck in particular uses the devastating Cruel Ultimatum in the end-game (along with lots of mana-fixing lands to cast it) to pull ahead and emerge victorious.
Green White Tokens
Record : 2-1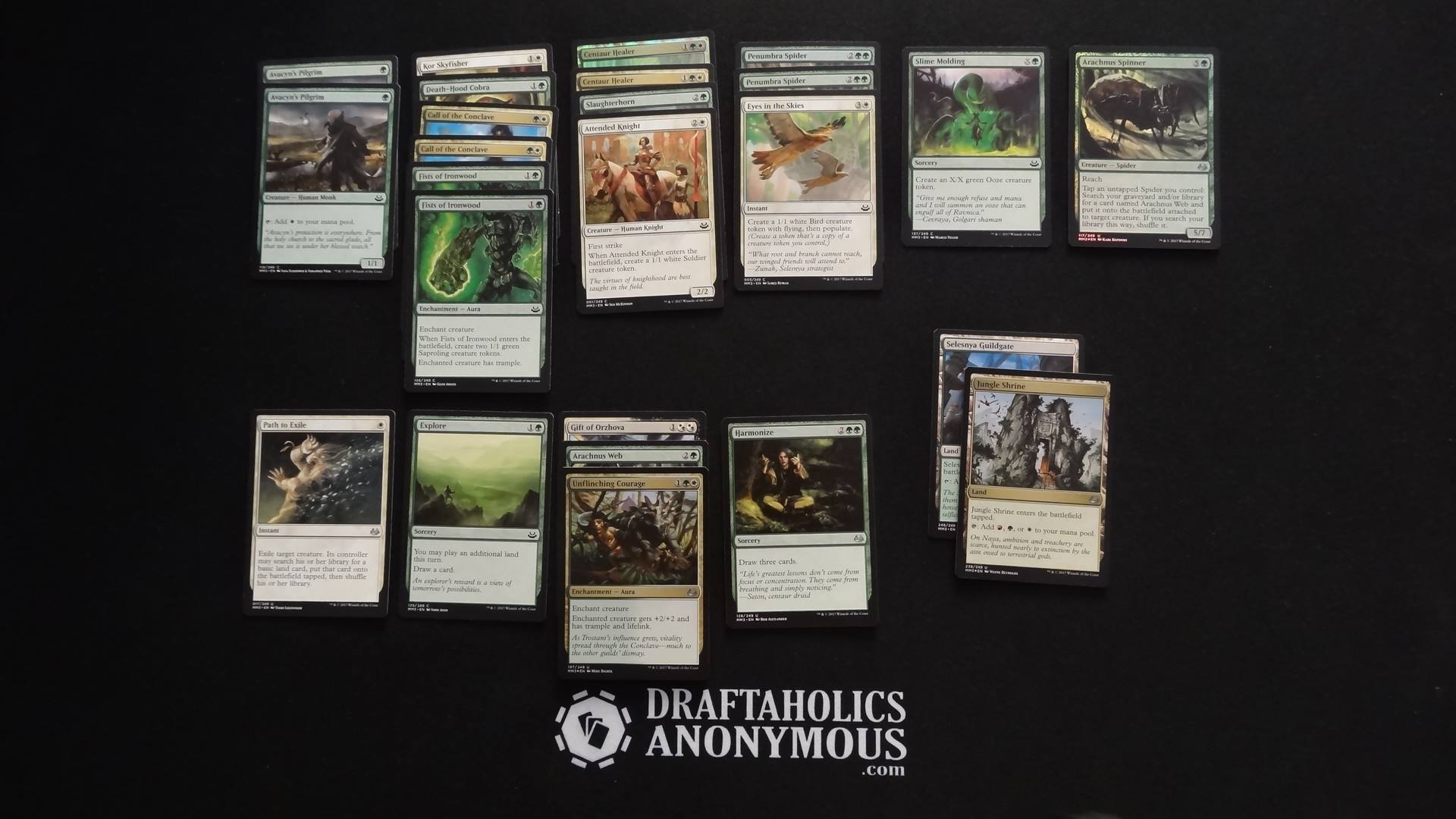 This deck plays cheap, yet big creatures. Green and white have some efficiently costed 3/3s in this format and they're great for both punching through damage in the early game as well as being reasonably sized bodies later on. Call of the Conclave has the added bonus of producing a token which can be Populated by cards like Eyes in the Skies – at instant speed!
This build also wields some solid auras. Fists of Ironwood produce some extra creatures as well as helping some bigger creatures trample over chump blockers. Gift of Orzhova and Unflinching Courage do a similar thing, in addition to gaining you some life to help you win a race.
Grixis Midrange
Result : 0-2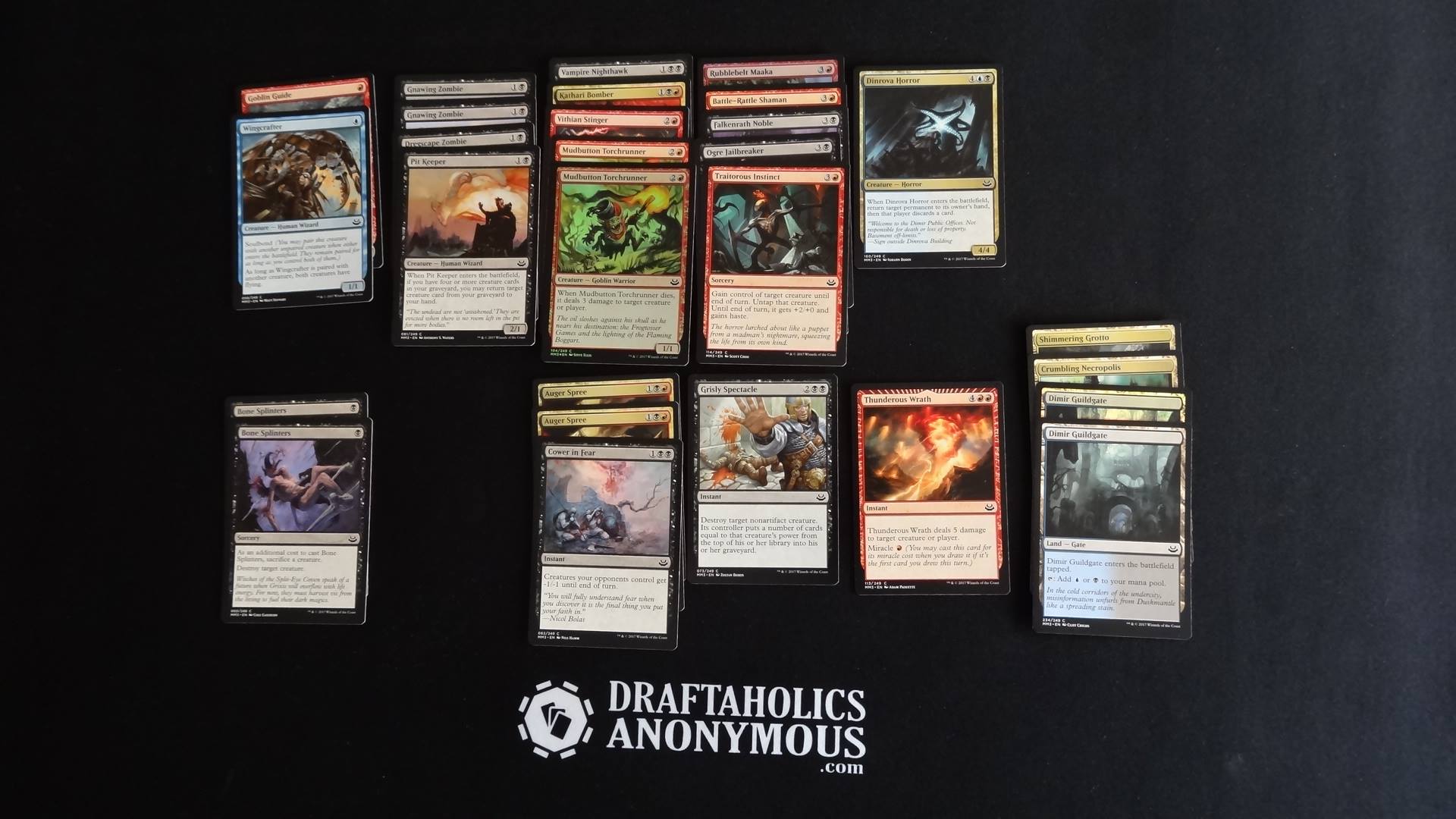 Mostly black and red, this midrange deck packs a sacrificial theme, letting its pilot throw creatures at the opponent's face until victory is acquired. Outlets like Gnawing Zombies let you sacrifice creatures to drain your opponent's life, while also getting additional bonuses from cards like Mudbutton Torchrunner and Falkenrath Noble.
Some great lands give the deck the added ability to reliably splash a small amount of blue for Dinrova Horror, a card-advantage machine, and Wingcrafter, a cheap way to give an attacker evasion later in the game.
White Blue Flicker
Result : 1-2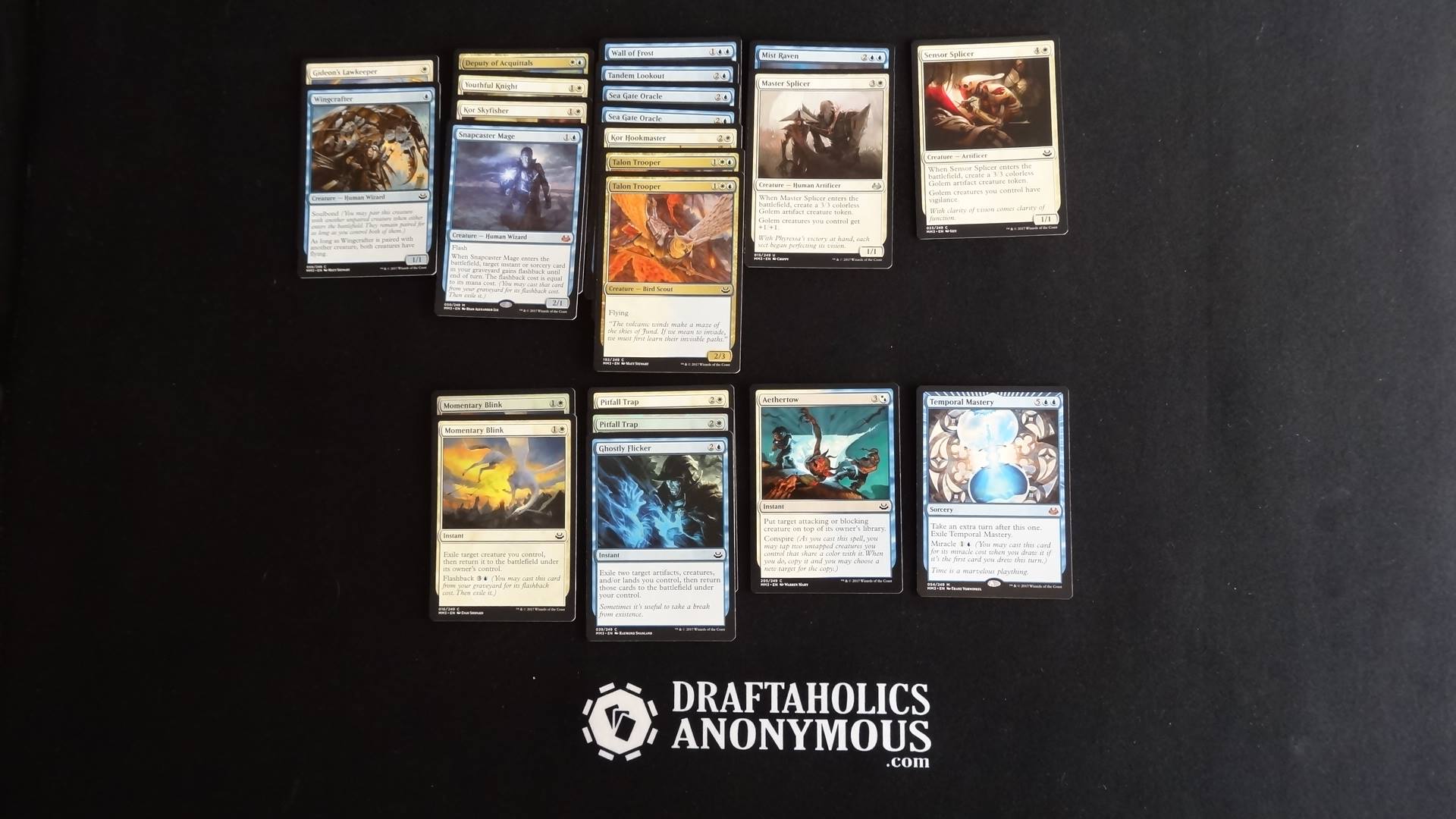 White Blue Flicker is a great strategy that lets you reuse enter-the-battlefield triggers and out-value your opponent.
Flicker effects, like Ghostly Flicker and Momentary Blink, combo with enter-the-battlefield effects to gain you life, draw you cards, bounce your opponent's creatures and summon you plenty of tokens.
White and blue are also well-known for their abundance of fliers and this deck, in addition to its built-in advantage engine, uses these fliers to close out the game.